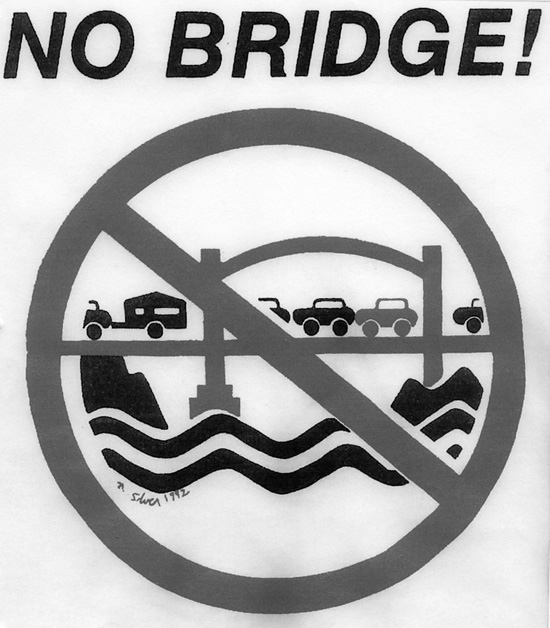 The "No Bridge" Campaign
---
TO DOWNLOAD THE 1990 CENSUS SPREEDSHEET as a Microsoft Excel file click on the icon
Note: You must have Microsoft Excel 2007 or above installed on your computer to view this file. Earlier versions may not respond
NOTES FOR 1990 VASHON-MAURY ISLAND FEDERAL CENSUS DATA
This file presents summary information from the 1990 U.S. Census for Vashon-Maury Island.  More 1990 Census data are available than is provided on the table included in this website.
What is offered here is for all of Vashon-Maury Island, identified as the Vashon Island Division and for two separate geographic areas identified as Census Tracts numbered: 277.01 (north end of the Island) and 277.02 (south end of the Island).  The standard for a Census Tract is that it contain a population of approximately 3000.  The geographic boundary line between these two Census Tracts was as follows:  from the west side of the Island going east – SW 220th St, to 11th Ave SW going north, to 204th Ave SW going to the east side of the Island.  Everything north of this line was part of Census Tract 277.01 and everything going south was in Census Tract 277.02.
In 1990, the Census reference day was April 1, 1990.  For this survey, the Census Bureau continued to use its mail out/mail back system for distributing Census questionnaires.  Follow-up was then conducted to assure as complete a count as possible.  This was the first Census where two separate questionnaires were used: a short form and a long form.  The long form gathered information on detailed demographic and housing characteristics from a sample of individuals.
Around the time of the 1990 Census, VMI was switching addresses from a route and box number system to regular street addresses.  Mistakenly, the Census contractor hired to record mailing addresses used street addresses for VMI prior to this mail system actually being in effect.  The result was the first batch of VMI Census forms were sent anywhere but VMI.  When this error was pointed out, the Census Bureau quickly corrected its mistake with the result being a wave of Census Enumerators going door-to-door canvassing to make sure every household on the Island received a Census questionnaire.
The Census Bureau initiated a system of even smaller geographic sub-divisions titled Census Blocks.  The standard for these was at least 100 people, and the geographical areas were defined by street names. 
A source has provided the researchers for this Census Project website with a list of 147 Census Blocks within Census Tract 277.01 and 172 Census Blocks in Census Tract 277.02.  As of February, 2014, further research is underway to try to map these geographic sub-divisions and locate data specific to each Census Block.  If additional detailed information for Vashon-Maury Island from the 1990 Census can be located, it will be provided on this Census Project website.
Published 1990 Census reports from the Census Bureau are available through the following website:  http://www.census.gov/prod/www/decennial.html.  One report: 1990 Census of Population, General Population Characteristics, Washington provides some basic information.  Details on how the 1990 Census was conducted and changes from previous Censuses can be found at: https://www.census.gov/history/www/through_the_decades/overview/.  Similar information for every U.S. Census is provided at this location.
The Census Bureau maintains a link to 1990 Census information at http://www.census.gov/main/www/cen1990.html.  However, only limited detailed information for Vashon-Maury Island can be found through this site: total population, race and Hispanic origin.
The Washington State Office of Financial Management has compiled information from the 1990 Census for VMI as identified in the zip code 98070 (which for this purpose includes the entire Island).  It can be found at: http://www.ofm.wa.gov/pop/census1990/ZIP/default.asp#980.  This source includes five tables: General population and housing characteristics, Social characteristics, Labor force status and employment characteristics, Income and poverty status in 1989, and housing characteristics..
Specific data runs for Vashon-Maury Island 1990 Census information may be requested from the National Historical Geographic Information System, administered by the University of Minnesota Population Center (funded by the National Science Foundation and the National Institutes of Health).  They may be reached at: https://www.nhgis.org/.
Some 1990 Census data may also be available through The National Archives, Seattle Office of the U.S. National Archives and Records Administration.  They are located at 6125 Sand Point Way NE, Seattle, WA 98115, 206-336-5112., email: seattle.archives@nara.gov.
March 29, 2014
Vashon History
Copyright 2013. All Rights Reserved.