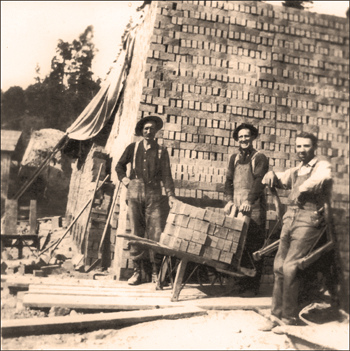 Bleeker Brickyard, Burton
---
TO DOWNLOAD THE 1889 CENSUS SPREEDSHEET as a Microsoft Excel file click on the icon
Note: You must have Microsoft Excel 2007 or above installed on your computer to view this file. Earlier versions may not respond
NOTES FOR 1889 VASHON-MAURY ISLAND WASHINGTON TERRITORIAL CENSUS DATA
This file presents information from the 1889 Washington Territorial Census for Vashon-Maury Island which has been transcribed from hand-written Census Enumerator notes.  This Census was taken in King County prior to Washington becoming a state.  As of January, 2014, Territorial Census documents can be viewed at the following locations in King County:
Washington State Digital Archives – online name index available for searching.
King County Archives – original bound Census books available on-site.
Puget Sound Regional Archives – microfilm images available on-site (no index offered).
Original Washington Territorial Census Enumeration Records may also be viewed through the commercial site Ancestry.com, which provides on-line access to searchable indexed images.  As of January, 2014, the King County Library System, through its Ancestry Library Edition, provides free access to Ancestry.com.  This on-line resource is only viewable at a King County Library building, such as the Vashon Library.
The transcription in this file has tried to stay as true to the original as possible using symbols, numbers or notes as written.  Difficulty in reading some of the handwriting may have resulted in copying errors.  A "?" has been inserted where the transcriber of these Washington Territorial Census Enumeration Records was unable to clearly read what was written and has provided the best interpretation possible.  A blank cell indicates no information was offered on the Enumeration Record. 
The information on this table is listed in the order provided in Territorial Census Enumeration Records.  Individuals are recorded by surname in alphabetical order not in relation to geographic order of house visited. No household relationship is included so it is unknown if individuals with the same surname are related.    
Information for this Territorial Census is timed to the first Monday in April, 1889.  A total of 514 individuals were enumerated.  This Census is for all of Vashon-Maury Island in one grouping.  No geographic subdivisions were used.
Notes Related to Information in the Table
All column headings are as provided in Territorial Census Enumeration Records with the exception of the following:
Column "Estimated Birth Year" was calculated based on the year the Territorial Census was taken and the information provided concerning age.
Column "Line Number" refers to the number of the line on the Enumeration Record.
The Territorial Census under the column "Marital Status" only provided opportunities to mark "married" or "single."  Designating "divorced" or "widowed" was not an option.
The Territorial Census under the column "Race" only allowed for marking one of the following categories:  Black, Chinese, Indian half breed, Kanakas (Native Hawaiian/South Sea Islander), Mulatto, or White.
March 29, 2014